cooling tower black drift eliminator
This Cooling Tower Net Fills have been specially designed for medium to strongly polluted cooling water, the focus of the development being on a high stability as well as on easy and economical installation. Therefore these fills are built from mechanically joint grids and are easily cleaned. The cooling tower fill packings are high-performance fills which provide an optimized pressure drop. We offer a unique flexibility in measures for this fill type.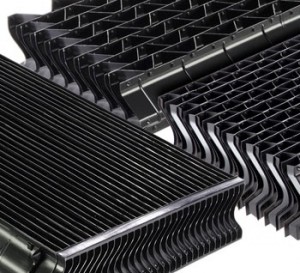 It is constructed by a serious of plastic sheets assembled into a lattice structure, with its internals engineered to the geometry of honeycombs, This netwrk structure provides a large contact area which allows even liquid distributionm augmenting liquid flow rate with minimum resistance. Its high surface area to volume ratio contributes to high mass transfer efficiency. Structured packing media is versatile and can be stacked into block-form, suitable for use in the cooling towers. Made of Polupropylene (pp) in color black.
Low pressure frop, high effiency and treatment capacity, minmum liquid holding capacity, wasy maintenace, large specific surface area, corrostion resistance and high temperature. Absorption towers, waste gas treatment(e.g. flue gas scrubbers), distillation columns, heat exchange,etc.
It is mainly used for deodorization in animal husbandry, absorption towers, waste gas treatment (e.g. flue gas scrunners), distillation columns, heat exchange,etc.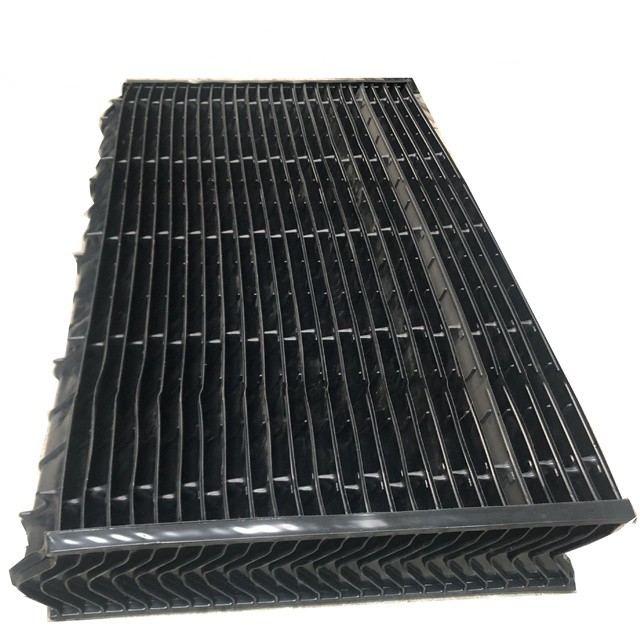 Technical Data:
1) Length: 900mm
2) Width: 450mm
3) Flute: 19mm
4) Special heating exchange area: 125 square meter / cubic meter
5) Thickness: 1.8mm
6) Conection: wedged joint
7) Maximum total suspended solid: 300 ppm continuoous operation and can be bear under 500 ppm within 10 hours
8) Usage life: ≥ 20 years
Get the latest price? We'll respond as soon as possible(within 12 hours)